Full service junk removal in Modesto from the most reliable team in the central valley.
Get your place looking new!
Get rid of unwanted junk!

Clean up your yard!
Welcome to the junk removal service where we help you to take your trash out in the fastest way possible. We are a team of well trained and fully equipped individuals. With the necessary tools we aim to meet your needs and requirements in every way possible. We guarantee 100% customer satisfaction in every job. 
Big Blue Junk Removal is a junk removal and hauling business that serves Modesto, Stockton, Sacramento, Manteca, Tracy, Merced, and more.
It was founded in
2012
by longtime friends Luis and Brandon. We now proudly serve over a dozen commercial accounts and even work with the Modesto Irrigation District. We offer the
best rates with

free onsite estimates

& same day service
! We are fully Licensed and Insured and we take a guarantee for
100% Legal Dumping
. Coming from a humble background, we are proud to let you know that our company is family-owned and family-operated.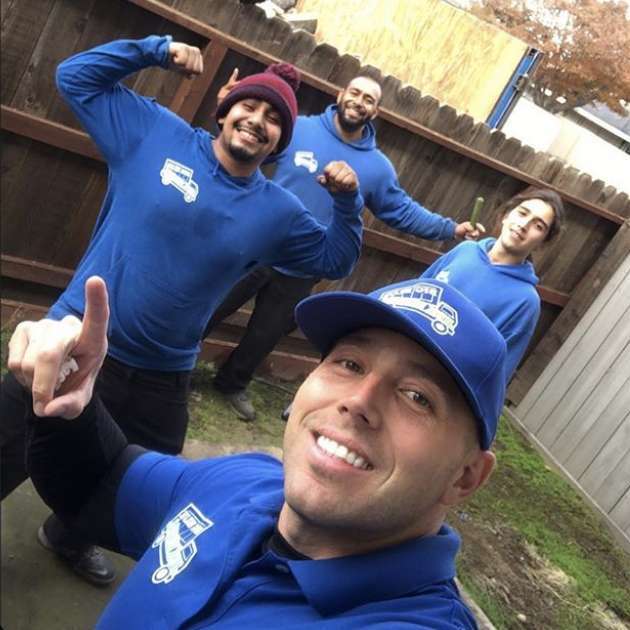 The Big Blue Junk Removal Team proudly presents the solution to all your junk removal problems. Our trained team of professionals helps you remove, recover and reclaim your space efficiently.
Are you looking for professional junk removal services that efficiently help you declutter? Looking for consistent professionals known for their high quality work all year long?
Big Blue Junk Removal gives the best service in town. We provide free estimates and fair prices that are almost half of what any other company charges. We also provide estate clean-up. 
Modesto's #1 Junk Removal Professionals
Your Go-To Junk Hauling Company
Best Junk Removal Service In Modesto
Big Blue removes junk from people's home all around Modesto. When you are planning to redecorate, relocate or renovate a property, you probably need the help of junk removal companies in Modesto. 

Big Blue Junk Removal was established in 2015 and serves Modesto, Stockton, Sacramento, and the surrounding areas. The main aim of our team is to provide you with our high-quality service at a reasonable price.

Apart from junk removal, we also provide shed removal and hot tub removal services in Sacramento. You can easily rely on us for the above-mentioned services. We assure you the best junk removal services and that too at a just price.  Our team never disappoints their customers and works at attaining customer's satisfaction.

Our experienced and skilled workers aim at providing the best hot tub and shed removal services in Sacramento. When you are done with the removal of junks, you can easily proceed with your further work. Our team of experts comes to your house and removes junk from the garage, attics and crawl spaces.

Big Blue Junk Removal is an eco-friendly company and we use appliances and machines that leads to safe junk removal in Sacramento.

If you are also looking for the best junk removal service in Sacramento, then do connect with us today. Feel free to call us if you are having any questions related to junk, shed and hot tub removal services.
Reviews from Happy Customers
Great company to use for junk removal. Luis and his partner were very polite and arrived the day after calling the office. Big Blue removed a sofa, washer, dryer and refrigerator for a very reasonable price. I will definitely use them again.🙂
– Cindy Parker
We have used Big Blue Junk Removal for our commercial cleanouts and they are amazing. Literally texted a picture of the copier and within minutes I received a quote. Told them they can come when convenient and they had a truck in my area and was at my commercial property within 10 minutes. Never disappointed. They are always on time and professional.
– Jacob Wolf
I highly recommend this company! They are caring, helpful, honest and work hard. They were able to come by the same day that I contacted them. They are very respectful and polite! Thank you guys for your help yesterday you have no idea... I will be contacting you again in the next couple of days. Thank you!!!!!
– Danielle Allman
We hired them to finish a job that another company lacked on. They were prompt, courteous, and completed the job in under an hour! They even swept up the debris that was left behind. A few days later later my husband hired them to pick up some appliances from our house. They were an hour early and had them loaded up in under 10mins! The price wasn't bad either. The guys who came were very nice. I would definitely hire them again!
– Jennifer Vizcarra