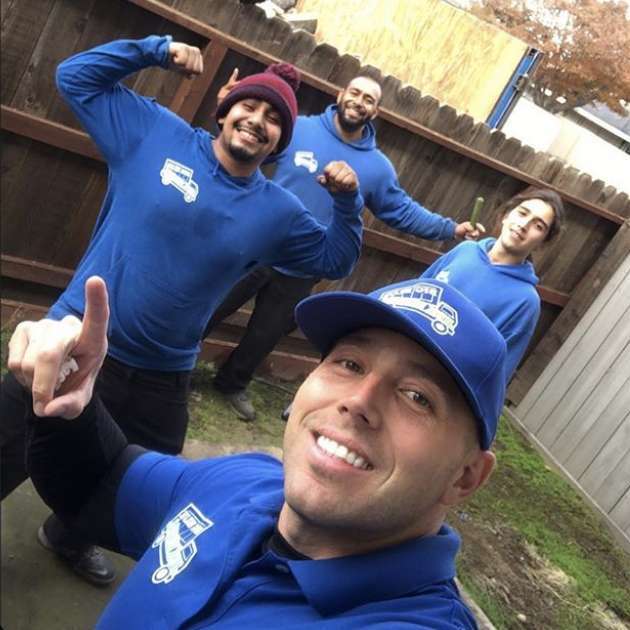 Big Blue Junk Removal is a junk removal and hauling business that serves Modesto, Stockton, Sacramento, Manteca, Tracy, Merced, and more. It was founded in 2012 by longtime friends Luis and Brandon. We now proudly serve over a dozen commercial accounts and even work with the Modesto Irrigation District. We offer best rates with assured same day service! We are fully Licensed and Insured hence we take a guarantee for 100% Legal Dumping. Coming from a humble background, we are proud to let you know that our company is not only family-owned but also family-operated.
Get your space looking like new!
Get rid of unwanted junk!

Reclaim your space!
We are a team of well trained and fully equipped individuals. With the necessary tools we aim to meet your needs and requirements in every way possible. We guarantee 100% customer satisfaction in every job.
Reviews from Happy Customers
Great company to use for junk removal. Luis and his partner were very polite and arrived the day after calling the office. Big Blue removed a sofa, washer, dryer and refrigerator for a very reasonable price. I will definitely use them again.🙂
– Cindy Parker
We have used Big Blue Junk Removal for our commercial cleanouts and they are amazing. Literally texted a picture of the copier and within minutes I received a quote. Told them they can come when convenient and they had a truck in my area and was at my commercial property within 10 minutes. Never disappointed. They are always on time and professional.
– Jacob Wolf
I highly recommend this company! They are caring, helpful, honest and work hard. They were able to come by the same day that I contacted them. They are very respectful and polite! Thank you guys for your help yesterday you have no idea... I will be contacting you again in the next couple of days. Thank you!!!!!
– Danielle Allman
We hired them to finish a job that another company lacked on. They were prompt, courteous, and completed the job in under an hour! They even swept up the debris that was left behind. A few days later later my husband hired them to pick up some appliances from our house. They were an hour early and had them loaded up in under 10mins! The price wasn't bad either. The guys who came were very nice. I would definitely hire them again!
– Jennifer Vizcarra